Applications
Electric Vehicle Mobile Charging System
Mobi EV Chargers are battery-powered-providing powerful charging
without the need for complex and costly electrical infrastructure.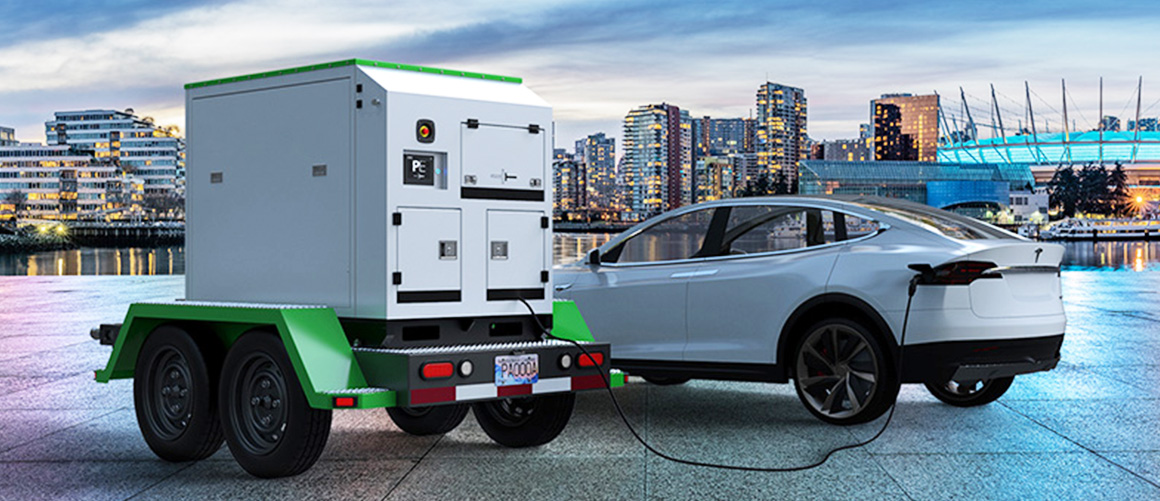 Mobile charging system
The emergency charging vehicle is used to deal with the situation that the new energy electric vehicle has no charging pile nearby due to battery loss or electricity leakage, so the charging vehicle needs to make up and charge for the emergency. The emergency charging vehicle is equipped with generator sets and energy storage batteris. Compared with a variety of charging modes, the use cost of the charging vehicle is relatively low.
Mobile electric vehicle (EV) charger capable of giving stranded out-of-charge vehicles enough power to get to a nearby charge point. It's like a flexible and convenient portable power bank to your car.
Mobi EV Chargers are battery-powered-providing powerful charging without the need for complex and costly electrical infrastructure. A truly portable solution, it can be deployed anywhere and utilize a drive system with joystick operation to allow for exact placement.
Mobile Electric Vehicle Charging System
Mobile charging stations for electric vehicles
The mobile electric vehicle chargers will be deployed in cities and highways across India, mitigating the range anxiety among electric vehicle (EV) owners. These are equipped with a range of slow and fast chargers to support two-wheelers to commercial vehicles to premium EVs.
Mobile electric vehicle chargers are basically battery-based containerized package coupled with charging guns. These can be easily transported to most sites within the city for on-a-call, on-the-spot charging service or pre-installed as service points.
Mobile EV chargers deliver power where it's needed
The perceived lack of ready access to charging stations is one factor that has limited consumers' interest in buying electric vehicles. While the number and diversity of locations of EV charging stations are growing, chargers can be hard to find in urban centers, or on the outskirts of cities.
The most suitable locations to meet drivers' charging needs can sometimes be too expensive to operate due to installation and energy costs, or too far from available power to be tenable. Both established and startup companies are addressing this conundrum by developing variations on mobile charging solutions to address specific needs. There's a spate of new products aimed at making EV charging more flexible by simplifying installation and bringing chargers closer to the vehicles.
For charging network operators and would-be site hosts, determining the best new locations to satisfy the expanding fleet of EVs has been challenging, due to the need to know where the vehicles reside and where they are most frequently driven. However, the necessary data to answer these questions is not freely available, which makes the ability to relocate charging stations if stations become underutilized an attractive option.
EV owners want to charge wherever they normally go, which is often in crowded areas where parking is challenging, or far away from power sources. Event organizers at remote locations that need to accommodate EVs on a short-term basis require portable solutions that can be brought in on trucks and taken away the same day.
Mobile charging robot
The mobile charging robot is a moblile energy strage system, it brings a trailer in the form of a mobile energy storage device to the vehicle.
The operation of the mobile charging robots is very simple: once the car is parked, the charging robots start either via an app or automatically, thanks to the Car-to-X communication. The robot independently steers the vehicle to be charged and communicate with it – from opening the charging socket flap to connecting the plug and decoupling it. The entire charging process takes place without any human involvement whatsoever.
The robot can also charge the batteries of several vehicles at the same time. To do this, the mobile robot moves a trailer, essentially a mobile energy storage unit, to the vehicle, connects it up, and then uses this energy storage unit to charge the battery of the electric vehicle. The energy storage unit stays with the vehicle during the charging process. In the meantime, the robot charges other electric vehicles.